Pi Sigma Alpha Political Science Honors Society
Check out our 2019 Student Presenters!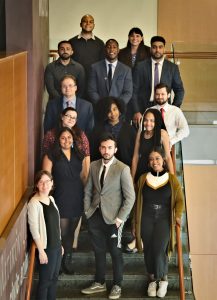 Pi Sigma Alpha is the only national honor society for students of Political Science in the United States. Pi Sigma Alpha is a member of the Association of College Honor Societies (ACHS). There are now over 700 chapters of Pi Sigma Alpha located on college and university campuses in every state and in Canada.
At present the main activity of the society is to apply for an activity grant from the national organization to host our Department's undergraduate research conference each April. Other activities can be planned, however, at the discretion of the group, so please apply if you are interested.
To become a member, an undergraduate student must have:
Completed 12 credits in Political Science, including 6 credits at the 300 or 400 level
An overall GPA of at least 3.1 for juniors and 3.2 for seniors
A Political Science GPA of at least 3.1 for juniors and 3.2 for seniors
Applications are available from the department office and are typically due in the fall of your junior or senior year.
Contact Dr. Carolyn Forestiere